Warning: This version is based on original binary release and contains several bugs. Please use the SVN version instead!
The installer uses the NSIS-installer, thanks a lot for this guys!
Requirements
* Java Runtime Enviroment v1.7.0 or older! (Note that Java v1.8.0 is not supported)
Read changes needed for version Java v1.7.0!
* 25-30MB of space
* Little network & config knowledge
Download installer
* Version 0.9.1 (alternative: zip)
Note: The installer contains tools.jar so the required JDK isn't needed for installation. Pretty stupid with a 65MB installation just to get this 12MB file
If you are looking for the Adito SVN-version, download here
Step-by-step guides
For the guide on how to install it, read below!
For a guide to set up RDP to your Adito server, check here
Download NSIS Installerscript – developers only
I finally got around to release the OpenVPN-ALS (Adito) installerscript!
Download it here (21,6MB)
If you are use the Installer script, here is the deal:

* I want to be credited, linked back here…

* You publish the new installer web references here!

* I'll add it to the page so others can play around with your release!

That would be great for the community, and probably fix a bug or two for those who problems installing this 🙂
Usage:
1. Download & Install NSIS
2. Extract "Includes to NSIS.rar" to %programfiles%NSISInclude
3. Use a decent NSIS Editor, like HM NIS Edit (It does have a simple, but good, IDE!)
4. Play around in the AditoInstaller.nsi file to see what it does
5. When you are stuck use NSIS Docs and Wiki
Don't cry when you mess up, redo!
Troubleshooting
I don't know anything at the moment, use the comments-field
Uninstaller
It will remove EVERYTHING! Please use with caution especially after you customize.
Reinstall
I have successfully reinstalled above the old version without problems so if you are upgrading, stop the service/console and just install above the old one.
Also check out this wiki on how to make a copy of your config
Step-by-step information
1. Welcome screen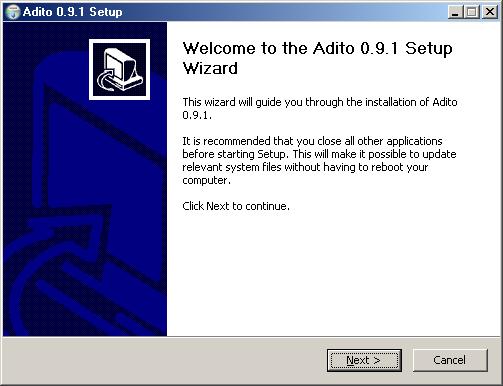 2. License and information regarding licenses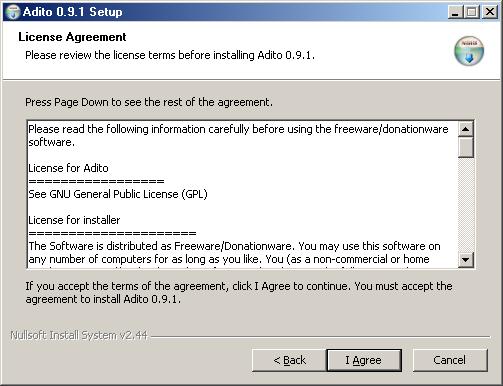 3. Java-check, this will look for register-entries regarding the JRE and notify you if you don't have java-installed.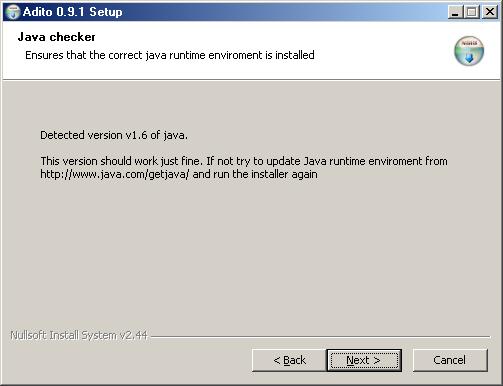 4. The destination path for the installation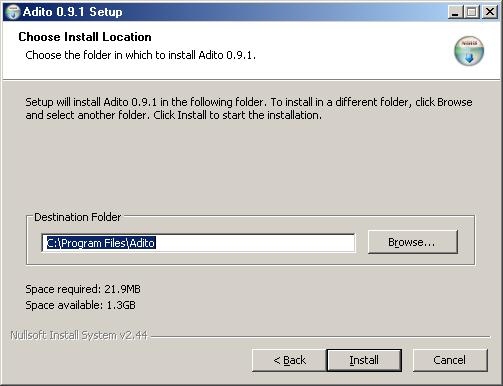 5. Status-progress of the file copying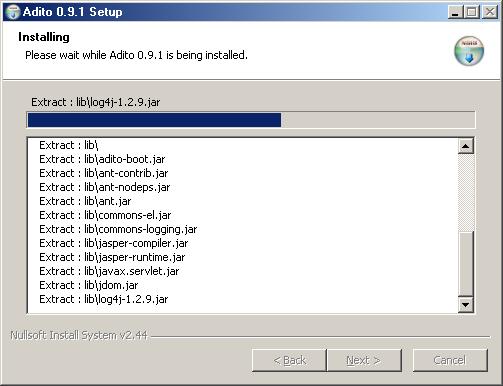 6. Webconfiguration of Adito (Now called OpenVPN ALS), please read!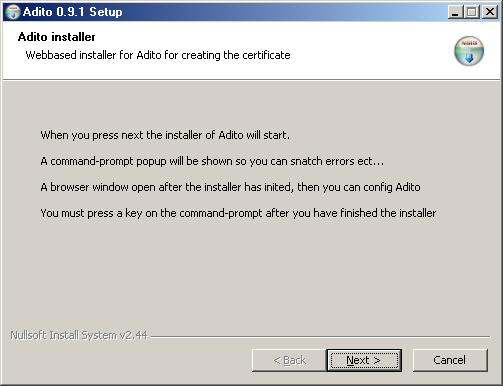 After starting this configuration you will have a command-prompt that again will open a browser window with the config. Here is the command-prompt running the config

The browser should lead you to this page

Run through the wizard it should be easy to understand. Questions regarding the config, use the Adito (OpenVPN ALS) Wiki
7. Run adito (OpenVPN ALS) as service is the most common way. The example shows that it doesn't install it as service but that is just to show the next frame 😉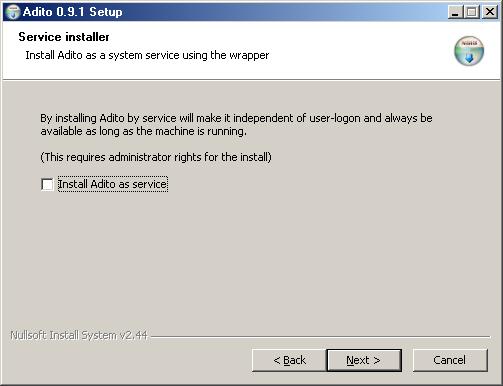 8. Run in console fires up the Adito (OpenVPN ALS) in a command-prompt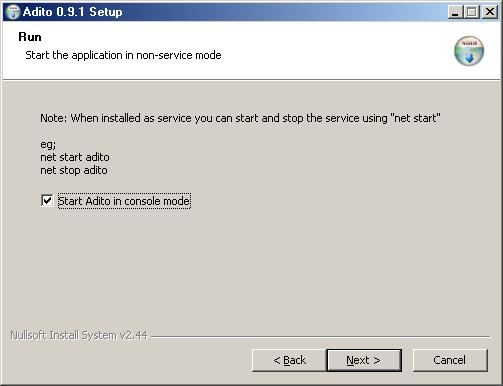 9. Finished!